Children's Curriculum Developer
Children's Curriculum Developer is responsible for adapting our children's ministry curriculum for online delivery. Our current resource assumes in-person interactions. The end product is a video for each session which guides students through the following:
Theme for the day

One or more stories

Activity reinforcing the theme
Main tasks include:
Preparing story videos with entertaining video content (puppet shows, animated slides, etc.)

Adapting activities designed for in-person interaction to virtual interaction

Writing/developing assigned new resources

Working with others to create supplemental material such as songs and "field trips"

Uploading lessons to the website
During the summer, office tasks (such as answering phones and receiving visitors) are shared amongst the whole office staff. The Children's Curriculum Developer will participate in these duties.
If COVID-19 is still impacting in-person interactions, efforts will be made to provide for working from home and to limit the amount of time required to be on-site at the Church.
Priority will be given to applicants with a Christian background for this specific job. The reason for this is that the Children's Cirriculum Developer will be creating Christian content and teaching Bible stories.
Work will consist of 35 hours per week for a duration of 8 weeks.
This position pays $15/hour.
Resource Sharing and Processing Librarian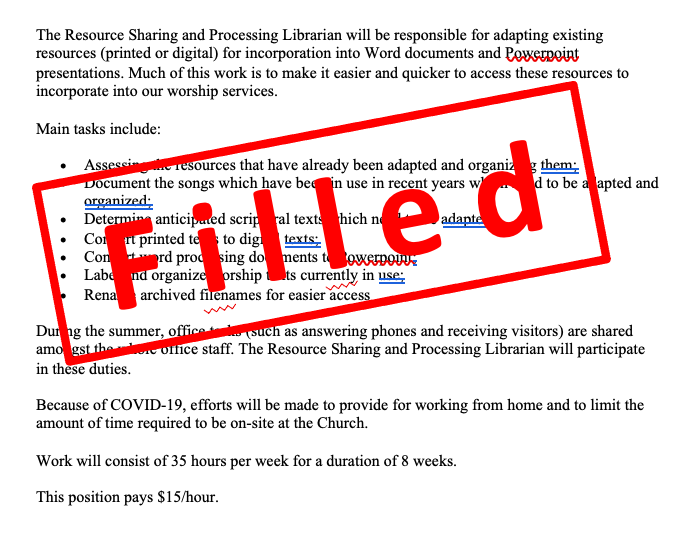 Building Painters